Working at Concerto Cloud Services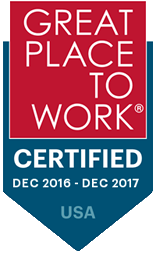 What our team members say:
"People care about each other here"
"I work for an honest and ethical organization"
"I feel good about our dedication to the community"
"I'm proud to say I work at Concerto Cloud Services"
Life at Concerto
Like Being Part of a Team? You'll Love to Work Here.
While an impressive resume catches our attention, the most important trait we seek in a candidate is the ability to embrace and live the Concerto core values. We believe that a good cultural fit in the long term far outweighs any skill set or experience you can bring to the table now. Flexible career paths, strong team building and peer mentoring create an opportunity for the right candidate to innovate, take risks and get out of their comfort zone.
Make it Your Own
Concerto offers professional skills development and technical certifications designed to help each team member achieve individual success and deliver exceptional service to our customers and channel partners.
Get Involved
Concerto is proud to partner with local Boys & Girls Clubs throughout the U.S. to help improve high school graduate rates and career readiness for at-risk kids. Our 'Passport to Success' partnership is designed to incentivize academic performance, recognize moral character, provide needed mentorship and promote real-world skills training.
Concerto Cloud Services offers an attractive variety of benefits
Best-in-class insurance plans, retirement plans and flexible healthcare spending accounts
We offer team members the opportunity to personalize benefits based on personal and family needs.
Unlimited Paid Time Off (PTO)
We believe in the power of a flexible work environment and encourage team members to take time off they need, when they need it. Use unlimited PTO for vacation time, relaxing, illness or caring for a loved one.
• This plan also covers 12 weeks of maternity, paternity and FMLA leave.
Charitable Time
We provide team members with up to eight hours of normal paid work time in each calendar year to participate in a community service activity.